The Bringg platform enables you to manage your deliveries & provide customers with a real time map-based view of the approaching driver!
The Bringg Platform on delivery.com Enables:
Businesses to manage deliveries in a smart frictionless way – assign orders to drivers, see the location of drivers and deliveries in real-time and more.
Customers to see their delivery progress in real-time, allow them to communicate with you and your drivers and rate their experience!
About Bringg
Bringg is a mobile-based SaaS platform that enables enterprises to manage deliveries in a smart, frictionless way so customers never have to wait for their delivery. Think of a world where every business can operate and offer an Uber-like service.
Tracking
With Bringg, your customers know where their delivery is in real-time. Once a driver starts heading their way, they will receive a link to a map-based tracking view in real time. The Bringg platform can identify in real time whether your driver is driving, cycling or running, and adjust the ETAs accordingly for customers.
Dispatching
Manage and track drivers in real-time. See them on the map, assign orders, receive alerts and more.
Route Optimization
Save time and money by enabling your drivers to know what the best route is for their deliveries. Make sure they don't waste precious road-time and arrive late to customers.
Driver's Management App
Your drivers need only the Bringg mobile app to get their job done. The app enables them to navigate and communicate with customers. App features include collecting signatures, taking photos, and writing down special notes regarding the order.
Announcing Your Driver's Arrival
If you haven't enabled auto check-in/check-out, you can trigger an additional notification announcing your drivers' arrival at customers. Imagine how wonderful that is for customers requesting drivers not to use the doorbell.
Localizing
Not all drivers are native English speakers. That is why we offer the Bringg driver app in a wide range of languages.
Contact us
to receive the language that is right for your drivers.
Start In Minutes, Using These Simple Steps:
On delivery.com:
To use delivery.com with Bringg you will need to do your own deliveries, and make sure your drivers have smartphones
Once registered, a @delivery.com email will be created for the admin / dispatcher. This automatically creates a Bringg account for your business. The admin / dispatcher can now invite their drivers to start using the platform and activate the account for delivery tracking.
Each driver can now download the app and sign in with the email and the default password delivery.com provided (see below instructions).
At this point new orders confirmed by your business will be pushed to the Bringg Dashboard for dispatching, but the communication will be available just between business and drivers. (No text message / email linking to the tracking map, will be sent to customers). Once successfully managed for a few days worth of orders your account is ready to be changed to customer facing.
Once and order is placed it must be confirmed either (a) on our online ordering confirmation page, (b) by fax/phone or (c) via email. It will then appear on the Bringg dashboard
According to what your business prefers, all drivers can receive a push notification that a new order is up for grab, or be directly assigned to an order by the admin.
On your mobile phone:
Download our Driver App here to the driver's mobile phone.
Drivers should log in with the email and password received from delivery.com.
Drivers should grab the order or click "accept" when the order is assigned to them.
Clicking "Heading To You" on the driver app will indicate the delivery has begun and your customer will receive an SMS/email with a link to track the delivery in real time.
When receiving a multi-order delivery, make sure not to click "heading to you" for order #2 until completed order #1 to optimize communication with customer.
**Download our Driver's manual Here .



See below some screenshots that will guide you step-by-step:
Now move over to the Bringg Dashboard. Here you can see a list of all your orders and drivers.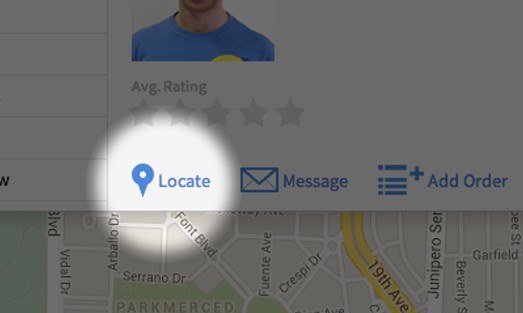 Now when customers call to check where their order is, you can easily locate and inform.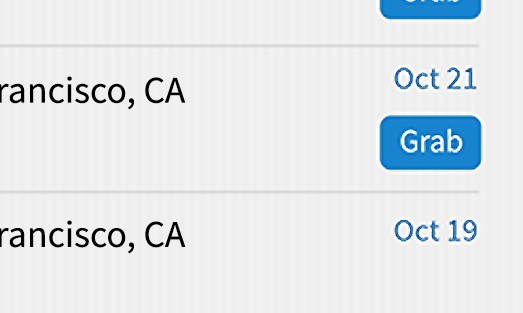 New orders will either be automatically pushed for grab to all drivers or assigned to a specific driver by the dispatcher.
In order to start a shift, driver should "start shift" on the side menu of their mobile app.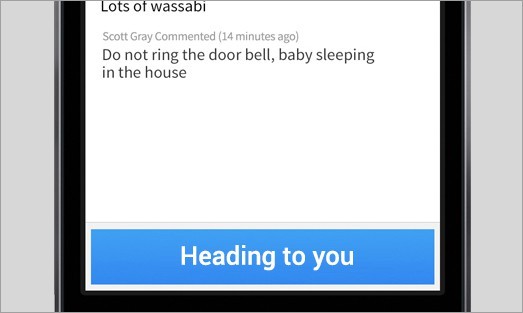 By clicking "Heading To You", the driver begins the delivery. This will trigger a notification to the customer allowing them to track their delivery.  If you enable auto check-in/out, the system will automatically know when your drivers arrived and left the location of your customers. Your drivers will not need to do a thing!
Customers will open the link on the automated text message sent, and will see a real-time map view of the driver as they head their way!
At the end of the delivery, customers will not be able to track the location of the driver and they will be encouraged to rate the service. Businesses can set a rule to immediately contact a customer that rated less than 3 stars, and by doing so, they provide superior customer care.